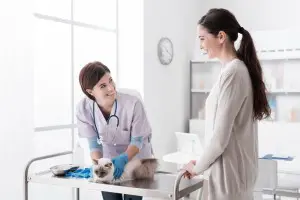 As any pet owner knows, our pets are so much more than animals who share our homes. The bond between families and their pets is an incredibly strong one, and when something is wrong with our four-legged friend, pet owners will often notice changes in behavior fairly quickly. Thankfully, many health issues can be easily resolved with a call or quick visit to your family veterinarian. Certain symptoms, however, can point toward far more serious issues, such as neurological disorders, which require immediate attention. With that in mind, it's important for pet owners to educate themselves on the different behaviors and symptoms that might be an early warning sign of neurological problems in their beloved companion animal.
Signs of Neurologic Dysfunctions in Pets
Neurological disorders refer to diseases that affect different processes of the brain, spinal cord, muscles, and even peripheral nerves. The following symptoms can indicate neurological dysfunction:
Balance problems
Head tilting
Weakness or inability to walk or even stand
Falling or rolling around
Paralysis
Tremors in the body or limbs
Seizures
Back or neck pain
Changes in temperament or behavior
Nausea
Shaking or rapidly shifting eyes
Other vision problems
Lack of coordination
Tail chasing (yes, really)
Watching a pet suffer from any one of these symptoms can be frightening and overwhelming. In situations like these, scheduling a consultation with a board-certified veterinary neurologist as soon as possible is often your best course of action.
How a Veterinary Neurologist Can Help
While most veterinarians treat a wide range of health problems, when it comes to neurological disorders in your pet, it is often worth seeking out a specialist. Veterinary neurologists specialize in the diagnosis and treatment of issues affecting the brain, spinal cord, and related muscles and nerves. They also treat issues that are less obviously neurologic in nature, such as inner ear disorders and neuromuscular diseases that target the peripheral nervous system. In addition to a routine physical examination, a veterinary neurologist will perform a neurological exam and work up which can help identify the affected area of your pet's nervous system.
In addition, neurological problems can be related to issues in other parts of the body. If your veterinary neurologist suspects this is the case, they can consult with a team of specialists in such related fields as internal medicine, surgery, oncology, and critical care. Collaboration between departments like these helps to ensure the best possible course of treatment for each patient and increases the chances of a positive outcome.
Diagnosing and Treating Neurologic Diseases in Pets
Veterinary neurologists often have access to a wide variety of diagnostic tools that are not typically found at a general practice veterinary hospital. Once the initial evaluations and consultations are complete, your veterinary neurologist may order additional tests to diagnose the cause of your pet's condition and establish a thorough treatment plan. Veterinary neurologists often rely on Magnetic Resonance Imaging (MRI) to get a detailed map of your pet's brain, but in some cases may also use Digital Radiography (traditional x-rays). Additionally, laboratory procedures may be necessary, and some of the more common diagnostic modalities employed by veterinary neurologists may be utilized. These modalities include cerebrospinal fluid analysis, muscle and nerve biopsies, blood counts, biochemistry profiles, and infectious disease testing.
After utilizing some of the more advanced testing and tools available to diagnose your pet's neurological disorder, a veterinary neurologist is then able to devise an optimal course of treatment for you and your pet. No matter the prognosis, a veterinary neurologist will be able to help you and your family understand what is happening and navigate how best to care for your pet. Some cases may call for spinal operations or neurosurgery, some may be able to be treated with medication or physical therapy, and some may need a combination of several treatment options. Additionally, follow-up diagnostic testing will be able to help your veterinarian determine the effectiveness of treatment and whether any changes need to be made as your pet recovers.
Seeking the Aid of a Veterinary Neurologist
When it comes to neurological disorders, it is vital to learn the warning signs of neurological disease and pay close attention to the behavior of your companion animal. Seek veterinary care at the first sign of a potential problem, and if a neurological condition is suspected, your family veterinarian can provide a referral to a veterinary neurologist.
Dr. Tracy Sutton DVM, DACVIM (Neurology) is a board-certified veterinary neurologist and a member of the Neurology and Neurosurgery department at Austin Veterinary Emergency & Specialty Center. Dr. Sutton completed a three-year neurology/neurosurgery residency at Tufts Cummings School of Veterinary Medicine, where she also received her doctorate in veterinary medicine. Board certified in neurology by the American College of Veterinary Internal Medicine, Dr. Sutton joins AVES having just completed two years of practice in San Francisco. She specializes in spinal neurosurgery, neurologic manifestations of systemic diseases, and the pathophysiology and monitoring of intracranial pressure, making her one of the most qualified experts in pet neurosurgery in Austin.
The Austin Veterinary Emergency and Specialty Center offers high-quality, comprehensive neurological treatment and pet neurosurgery in Austin. AVES also provides experienced care in the departments of Surgery & Orthopedics, Radiology, Dentistry, Internal Medicine, Critical Care, Oncology, and 24-hour Emergency. If you suspect your pet is suffering from a health problem, contact your primary care veterinarian or call AVES at 512-343-2837.
Latest posts by Austin Veterinary Team
(see all)