Cardiology Press Release
Austin, TX – Monday, May 7th — CVCA Cardiac Care for Pets is excited to announce a merger with Austin Heart Vet, PLLC, Dr. Katie Meier, DVM, Diplomate, ACVIM (Cardiology) practice. Dr. Katie Meier stated, "We are excited to bring the best of both businesses to the Austin veterinary community to benefit dogs and cats with cardiac diseases and conditions." CVCA will be located inside of the Austin Veterinary Emergency and Specialty Center (AVES) in Austin, TX and will begin seeing clients on Thursday, May 10, 2018.
Dr. Katie Meier, DVM, Diplomate, ACVIM (Cardiology) and Dr. Sara Beth Bordelon, DVM, MS, Diplomate, ACVIM (Cardiology), who was a part of CVCA in Fairfax, VA, is excited to have the opportunity to be with family in the Austin area help meet the need of veterinary cardiology services in the Austin community.
Katie Newbold, CVCA CEO, stated, "CVCA is excited for this opportunity to expand our board-certified veterinary cardiology practice into the Austin, TX area. We are grateful to be able to set up to support our two wonderful and experienced cardiologists to meet the needs of the pet friendly Austin community. We work hard to uphold our core values of Excellence, Integrity and Compassion in all of our locations, and we are thrilled to be able to expand our family of doctors, support staff, clients, patients and referring veterinarians."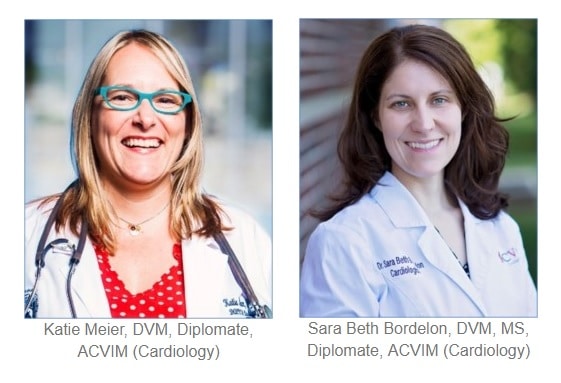 About CVCA
Since 1987, CVCA Cardiac Care for Pets has been the leading choice for small animal veterinary cardiology with offices in Kentucky, Maryland, Virginia and now Texas seeing over 19,500 patients at 12 locations in 2017. CVCA offers the largest practice of board-certified veterinary cardiologists, ACVIM credentials reflect 3-5+ years of cardiac-specific training. Over 99% of our clients would recommend us to a friend or family member. To learn more about CVCA, visit our website at www.cvcavets.com.
About AVES
Austin Veterinary Emergency & Specialty Center (AVES) is a state-of-the-art veterinary hospital providing the most advanced, compassionate emergency and specialty care to Austin-area pets. We utilize advanced diagnostic procedures, cutting-edge technology, and innovative thinking to ensure each patient receives the highest level of integrated care. AVES currently provides care in the areas of Surgery & Orthopedics, Internal Medicine, Neurology & Neurosurgery, Emergency & Critical Care, Dentistry & Oral Surgery, Oncology, Rehabilitation, and Radiology. To learn more about AVES, visit AusinVets.com
Contacts
CVCA Cardiac Care for Pets
Denise Kessler, CVCA Marketing Manager
denise.kessler@cvcavets.com
M: 571.334.6666
@cvcavets
Austin Veterinary Emergency and Specialty Center
Alex Whitney, AVES Marketing Director
Alex@AustinVets.com
512.343.2837
@AVESVETS
[/fusion_text]
Latest posts by Austin Veterinary Team
(see all)