Contact Us
Austin Veterinary Emergency and Specialty Center
Phone: 512-343-2837
Fax: 512-343-2844
7300 Ranch Rd 2222, Bldg 5, Suite 100
Austin, TX 78730
(Click for Directions)
We are located in the Shops at Ladera Bend.
Hours of Operation:
Open 24/7/365 for pet emergencies
If you are coming in with an emergency, please feel free to call to tell us you are on your way. We are happy to meet you in the parking lot to assist you and your pet.
Specialty Hours:
Monday – Saturday: 8:00am – 6:00pm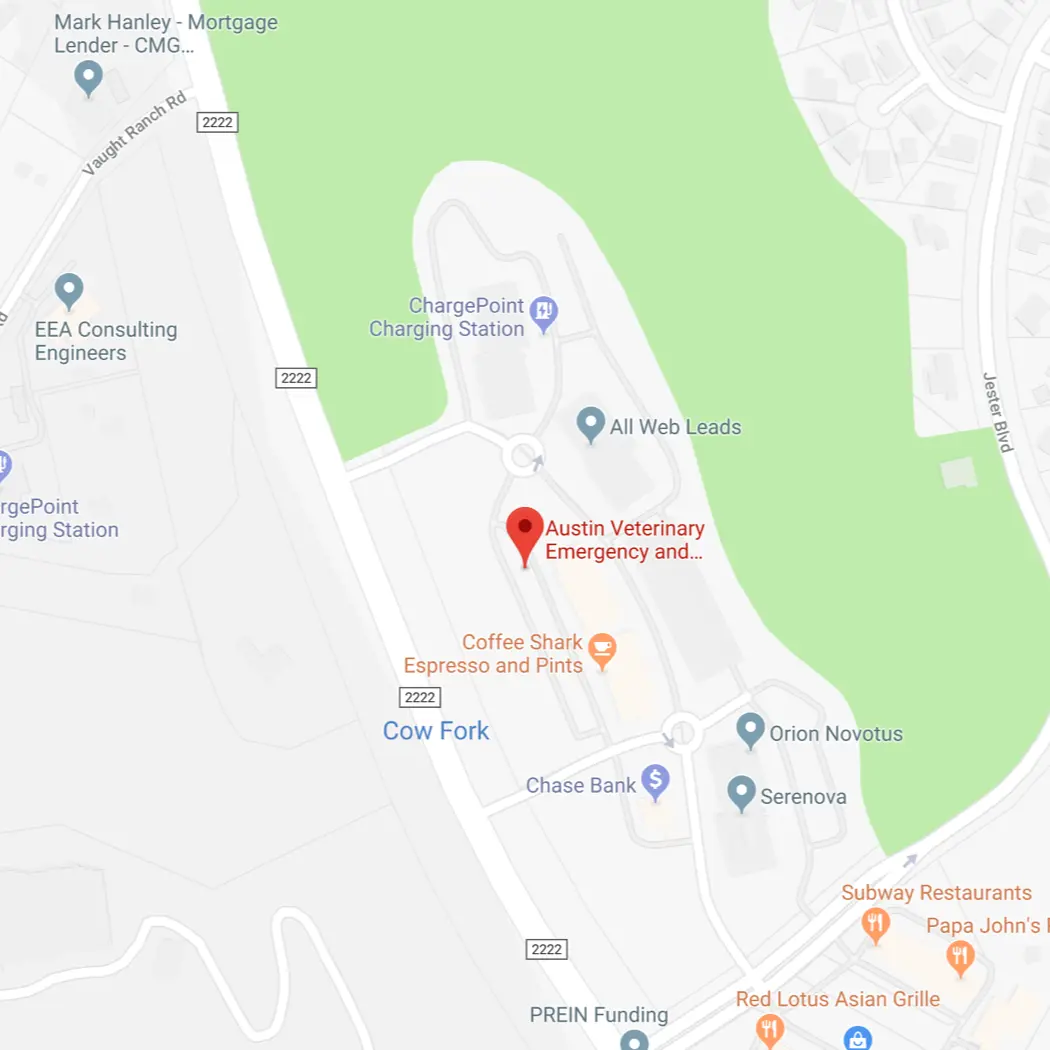 Directions To AVES:
Austin Veterinary Emergency and Specialty Center is ready to serve all patients from Austin and the greater Austin areas. Whether you reside inside or outside the city, our team is ready to assist. If you have an after hours, weekend, or holiday emergency, please call or visit our hospital right away.
From Round Rock, TX:
Take Mopac TX-1 Loop S/Loop 1 S
Continue on Mopac TX-1 Loop S/Loop 1 S & take the exit toward US 183 N/Capital of Tx Hwy
Turn right onto N Capital of Texas Hwy & Exit RM 2222 W.
Continue on Ranch to Market 2222 W and AVES will be on your right
From Cedar Park, TX:
Head southeast on Old Hwy 183
Turn right onto S Lakeline Blvd & Continue straight to stay on S Lakeline Blvd
Turn left onto Ridgeline Blvd
Turn right onto N FM 620 & Continue straight
Turn left onto Ranch to Market 2222 E & Continue straight
AVES will be on your left
From Pflugerville, TX:
Navigate side streets & Take Mopac TX-1 Loop S/Loop 1 S
Continue on Mopac TX-1 Loop S/Loop 1 S & take the exit toward US 183 N/Capital of Tx Hwy
Turn right onto N Capital of Texas Hwy & Exit RM 2222 W.
Continue on Ranch to Market 2222 W and AVES will be on your right
CALL US TODAY AT
512-343-2837