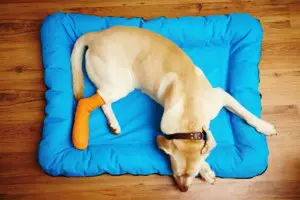 When a pet has been through something as difficult as trauma or surgery, it is important that pet owners are there to help their pets throughout the recovery process. It can be difficult, however, to know what to do to give your pet the support they need.  Fortunately, AVES has some advice that will make the recovery process easier for both you and your pet.
There are numerous reasons that your pet may need a surgical procedure. Whether it is a routine surgery like a spay or neuter, or an emergency situation where surgery was performed to save your pet after being hit by a car or bitten by another animal, pets need time to heal.
The recovery process may be really easy for some pets, but challenging for others. It is hard to know how your pet will respond to the surgery and post-surgical care they need until you are in that situation. As veterinarians, we know that at-home post-op care isn't always easy, so we hope our advice makes it as easy as possible on you, your family, and your pet.
At-Home Post-Op Care
When your pet is discharged from the hospital, written home care instructions should be provided.  Before you leave the hospital, be sure that you completely understand the instructions that were given, and that you are capable of and feel comfortable with performing the necessary responsibilities. Ask any questions that you have – it is better to be prepared before you get home than to have to call with questions later.  We do understand, however, that picking your pet up from the hospital can be emotional and overwhelming, so always contact your veterinarian if you have follow up questions.   Taking notes on home care is also a good idea, to make sure you don't forget anything.
After any type of trauma or surgical procedure, your veterinarian is likely to ask you to keep your pet from being too active. For some pets, this can be a real challenge, especially if your pet's recovery includes kennel or crate rest, or confinement to a small, controlled space. If you have the ability to keep your pet in an area where you spend a lot of time, it might help for them to see and hear you. Plus, this gives you the ability to interact with your pet. If keeping your pet nearby isn't an option, try leaving them with an old shirt, towel, or other clothing items that have your smell on them.
While keeping your pet confined, make sure that you are also keeping them comfortable. Provide them with something soft to lie on. In many cases, you can use a pet bed, non-slip rug, or bath mats with non-slip rubber bottoms to create a soft, comfortable, and safe spot to rest on as they recover.
While recovering, your pet's outdoor time will often need to be very limited. In many cases, keeping your pet on-leash when outdoors will be necessary. Unfortunately, this is the only way to have full control of your pet when outdoors—even for potty breaks. A leash also allows you to make sure that nothing is out of the ordinary with urination or defecation, which is important in many cases during recovery.
Some pets may have difficulty moving around during their recovery. This might mean that you need to be able to carry and support your pet during trips outside to go potty. If you are unable to perform this task, and nobody in your home can help, then you need to discuss your options with your veterinarian.
Often, pets are given medications after surgery. Antibiotics and pain relievers are both common medications that you may need to administer to your pet. If your pet tends to be difficult during this process, there are options, including treats specifically designed to hide a pill, flavored medications, and tips for administering medication from your veterinarian or technician.
If there are any aspects of the recovery process that you don't think you can handle, discuss options with your veterinarian. They may be able to provide outpatient support or keep your dog or cat for a few extra days while they recover.
Follow-Up Visits
It is highly likely that your pet is going to need to see your veterinarian for follow-up check-ups throughout the recovery. During these appointments, your veterinarian may need to remove stitches, take x-rays, or remove or change a bandage.
Veterinarians will also take the opportunity to recommend any other treatments needed during these follow-up sessions. For example, some pets may need rehabilitation after surgery, which will be recommended by your veterinarian. Often, your veterinarian can refer you to a facility that has a rehabilitation department if they don't already have the means to provide the therapy themselves or at their location.
Rehabilitation
In some cases, rehabilitation will be necessary to help your pet regain mobility. Rehabilitation can also help speed up recovery to get your pet back in action sooner. As a diverse therapy, rehabilitation can include all kinds of treatments, including hydrotherapy, acupuncture, massage, laser therapy, therapeutic ultrasound, and many more options.
These treatments can help with a wide range of problems, including improving muscle strength, increasing joint movement, decreasing pain and inflammation, and improving coordination. All of these can be incredibly beneficial to a pet after going through trauma or surgery.
At AVES, we have a rehabilitation facility that offers help for pets after a surgical procedure or trauma. If your veterinarian has recommended rehabilitation for your pet, and your pet wasn't a patient at our facility for the surgery, ask for a referral for our rehab services.
If you think that your pet needs additional care after surgery or needs pain management, give us a call today at 512-343-2837 or email us at info@austinvets.com. We will help you provide the care your pet needs in any way that we can.
Latest posts by Austin Veterinary Team
(see all)